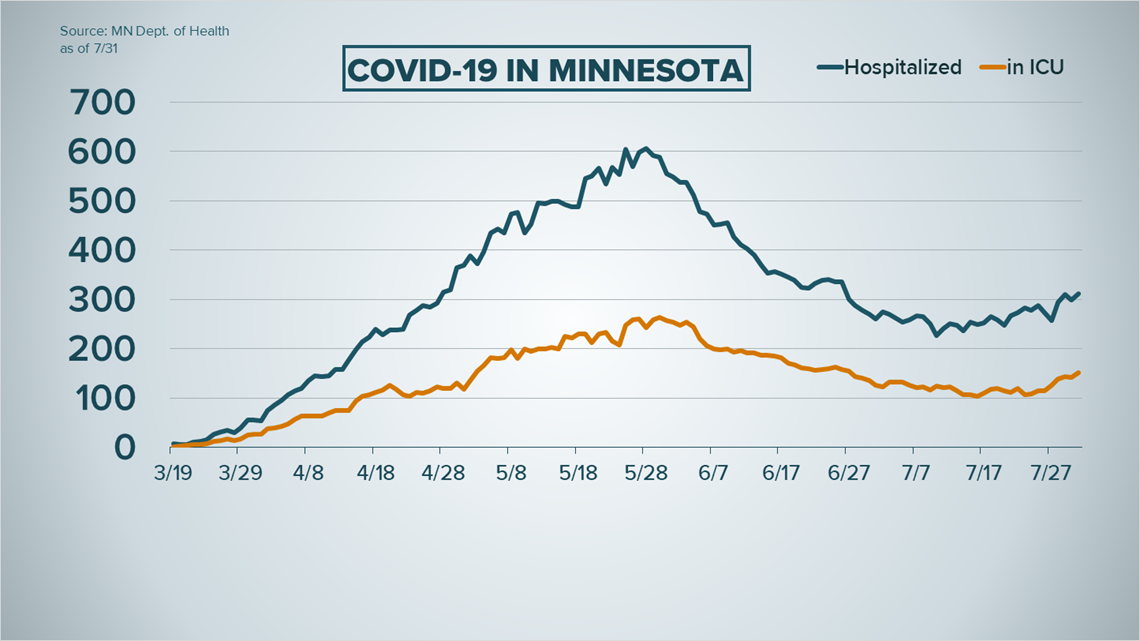 Below are the latest updates on COVID-19 in Minnesota and Wisconsin.
COVID-19 hospitalizations in Minnesota continue to increase
The state warns that a person who attended a rodeo in northern Minnesota tested positive for COVID-19; several thousand people attended
The Minnesota governor announces a district-by-district plan in the district
Minneapolis, St. Paul announces distance learning, some districts still up in the air
All families have the option to choose distance learning
Minnesota Department of Health (MDH) commissioner Jan Malcolm says the last time the state saw it many days with more than 700 new cases was in May.
"Unfortunately we have returned to the level of cases we were seeing later this spring," Malcolm said this Friday in a regular news call to the media. "Still, it̵
7;s important to keep in mind that we're testing in a much more rigorous and much broader way."
He said hospitalization levels have also returned to May levels.
According to Malcolm's rate, the state's positivity rate – the percentage of tests that return positive – stands at 4.9%. This has been the same for the last two days. MDH has previously said that five consecutive days of 5% or more are cause for concern.
Malcolm said they have found that a person who attended the North Star Stampede rally in Ittasca County last weekend tested positive for COVID-19. According to the MDH, the rodeo attracted several thousand people.
"The person was infectious while he was at the event," Malcolm said Friday. "We know there were a lot, a lot of people at this event, so there are certainly other possible exhibits. We just want to give the floor right now, given the number of people at this event."
Malcolm said he calls for people who attended the July 25-27 event to be vigilant, to be tested if they develop symptoms and limit public activity as much as possible for the next 14 days.
MDH Infectious Diseases Division director Kris Ehresmann said they were "very aware that there was no social distancing and that people were not wearing masks" at the rodeo. He said MDH held multiple conversations with the organizers that led to the event and that he believes they "reached a point of frustration" and decided to hold the event and "not prevent people from joining." .
MDH tracks contacts to determine who might have had contact with the event.
Dr. William Morice, president of the Mayo Clinic Laboratories, said the Mayo Clinic has performed more than 424,000 COVID-19 tests. In Friday's call, he stressed the need for a smart testing strategy.
Tim Schacker, vice dean of research at the University of Minnesota School of Medicine, said the U of M performs approximately 6,000 tests a day.
"One of the unique things about our operation is that at the beginning of the pandemic we recognized the need to be as independent as possible," he said.
That's why M's U does "homemade" testing whenever possible, Schacker said, preventing them from relying so much on the global supply chain.
"We're a long way from the forest," he said. "The sequence of this virus was first published just over six months ago."
Since then, Schacker said, diagnostic tests and new therapies have been created and improved, and many clinical trials are underway.
"While there are many paths to take, everyone needs to be vigilant," he said. "We hope there's a vaccine on the horizon, but now is not the time to let our guard down."
COVID-19 hospitalizations in Minnesota are at their highest point in nearly a month.
The Minnesota Department of Health (MDH) reported Friday that 312 people are hospitalized, with 151 of them in intensive care.
These hospitalization numbers have increased recently, after weeks of decline. Tuesday's number was the highest since June 26, and that score was again surpassed on both Wednesday and Friday.
MDH also reported 779 new cases of COVID-19 and six additional virus deaths on Friday.
The new positive tests exceeded a volume of 16,660 tests, the highest number since last Friday.
With the numbers recently reported Friday, deaths in Minnesota have reached 1,600, with 1,223 of them in long-term care or assisted living.
Cases among young adults between the ages of 20 and 29 rose to 13,000, and 12,915 were recorded as of Friday. Between 30 and 39 years the groups form the second group with 10,080. Between the ages of 80 and 89, the Amonotans constitute a smaller group of cases, with 1,820, but the highest number of deaths in an age group.
Minneapolis Mayor Jacob Frey announced this week that establishments will have to stop serving customers directly from the bar as of Aug. 1, in an attempt to curb the number of cases related to bars and restaurants. .
RELATED: State guidance leaves some parents still insecure about school plans
Gov. Tim Walz says the state will work with school districts to make individual decisions about whether students will return to school in person this fall.
The "safe learning plan" that the state has developed to educate students while mitigating the spread of COVID-19 involves three models: face-to-face classes, distance learning, and a hybrid of both.
The Minnesota Department of Health (MDH) and the Department of Education (MDE) will work with districts and nautical schools to help determine which learning model to begin with this fall. The decision will take into account the spread of the virus in the surrounding county and the district's ability to meet public health needs.
"Not all schools look the same, not all parts of the state look the same and we need to keep that in mind," Walz told a news conference Thursday.
New figures released Thursday by the Minnesota Department of Health (MDH) show once again higher in cases of COVID-19, a trend of major official health calls.
MDH says 745 new cases of coronavirus were confirmed during the last 24-hour reporting period, based on the results of 14,821 tests processed by private and state labs. This brings the total number of cases to 53,692 since the pandemic began.
Tests conducted during the last reporting period have pushed Minnesota to the millennial milestone. State health officials say 1,007,882 COVID-19 tests have been performed.
Currently, 298 people are being treated in Minnesota hospitals for complications of the virus, 141 of those with symptoms severe enough to require ICU care. While hospital numbers are down slightly from Wednesday, they still worry Minnesota Department of Health (MDH) director of infectious diseases Kris Ehresmann, who said hospitalizations are expected to increase and not try just one "hit" of the data.
Five more Cincotones have lost their lives to COVID-19, causing a total fatality of 1,594. Of these deaths, 1,219, or 76% of them, involve residents in long-term or assisted living facilities.
MDH says 46,965 people who once diagnosed the virus have recovered to the point that they no longer need isolation.
Those between the ages of 20 and 29 make up the largest number of coronavirus cases in Minnesota, with 12,728. In this age group, three people have died. Those between the ages of 30 and 39 have 9,940 cases and 13 deaths, while between the ages of 80 and 89 there are only 1,805 cases, but 537 deaths, most of any age group in Minnesota.
Hennepin County now has 17,092 cases and 810 deaths, followed by Ramsey County with 6,607 confirmed cases and 258 deaths. Dakota County reports 3,710 cases and 102 fatalities.
Source link